Maintaining the sheep herding system in the Crau
Herding by a shepherd is traditional in the Crau coussouls. However, the sometimes harsh working and accommodation conditions make it difficult for farmers to recruit and retain shepherds.
In order to support and sustain this type of guarding, which is necessary for the establishment of grazing methods adapted to the conservation of the Crau Plain Grasshoppper, the LIFE project plans to improve the accommodation conditions of the shepherds on two sites that are sheltering the Crau Plain Grasshopper.
It was thus decided, after consultation with the farmer present on one of these sites, to install a tiny house, a comfortable and well-insulated wooden house (an essential criterion in the Crau in mistral weather!).
The manufacture of this mobile home was launched in November 2021, and its delivery, eagerly awaited, is scheduled for the end of February 2022…
Property of the Conservatoire d'espaces naturels de Provence-Alpes-Côte d'Azur, it will be made available to the breeder and his shepherd so that he can use it during the grazing season on the coussoul concerned.
Une Tiny House dans le coussoul !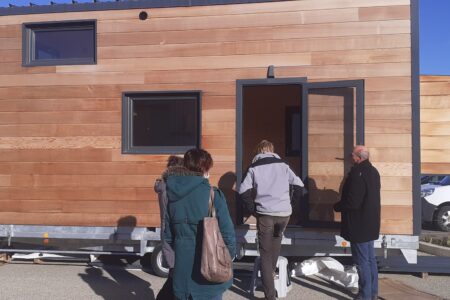 N46-Facade-Tiny-house_Lisbeth-Zechner
Façade de la tiny house © Lisbeth Zechner - CEN PACA
N45-Equipement-interieur-tiny-house_Lisbeth-Zechner
Équipement intérieur de la tiny house © Lisbeth Zechner - CEN PACA